LG Enact VS890 is a phone which comes with a luring design coupled with some of the most innovative specifications and features. In fact, 4 inch Smartphone redefines your entire Smartphone experience with some of the most innovatively designed features and elements. Apart from this, the well designed appearance of this phone adds to its benefits. Read along, to grab a better idea about the LG Enact VS890 Specifications and features, accordingly.
LG Enact VS890 Specifications and Features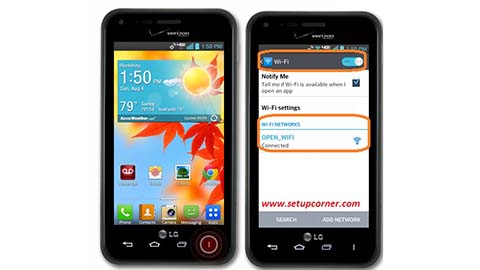 LG Enact VS890 Features
This phone comes with a wide array of features that are not only effective but are also equally purposeful. Among the LG Enact VS890 features, the 4 inch TFT capacitive touch screen needs special mention. The touch screen is actually amazing with its superb response and apt feasibility. Again, the 5MP primary camera coupled with the super effective secondary camera takes your photograph clicking experience to a completely new level. Apart from this, the phone also comes with an amazing QWERTY keypad which works wonders for fast text messages or mails. The keyboard is also slider, thereby adding to the panache of the entire camera. Besides the mentioned features, the phone also comes with a host of additional features like LED flashlight, superb connectivity options, amazing resolution and lots more. Thus, if you are totally 'gaga' over unique Smartphones, then this phone can be an effective and 'worth' buy.
LG Enact VS890 Specifications
Now, the specifications of this, innovative and out of the box phone are also equally lucrative. The LG Enact VS890 comes with a display resolution of 480 X 800 P, having ~233 PPI pixel density and 16M colors. Apart from this, it is also equipped with a 1.2 GHz Krait processor. The Smartphone has an internal memory of 8GB and a RAM of 1GB. Moreover, it supports all 64 GB Micro SD cards. The Enact VS890 is a pretty light phone with a weight of only 168.9 grams, which makes it immensely portable. Again, the size of this phone is also very pocket-friendly, ranging to about 111 x 52.3 x 15.8 MM. This Smartphone comes with the all the popular connectivity options like Bluetooth, WI-Fi and Micro USB port-connectivity.
Thus, on a concluding note, with the host of features and specifications it offers you, it is definitely a very viable decision to purchase this phone, and avail its benefits accordingly. Moreover, the LG Enact VS890 price is also pretty reasonable (considering its features and advantages) ranging to Rs 26,900.