Due to several apps running in the background on an iPhone, sometimes the contact list generates a duplicate contact, which means the same contact appears twice, thrice or more times on the contacts list. This duplication however can be easily rectified with the help of several other apps that are easily made available. One can also mend this manually. There is an app called "merge duplicate contacts" which runs especially for the iOS 5 phones to Merge Duplicate Contacts in iPhone. This app operates with just one click. It takes a snapshot of the entire address book after book. So it is impossible for one to have any contact reappear after merging.
How to Merge Duplicate Contacts in iPhone
User friendly merger application
This app is highly beneficial as it is user friendly and easy to operate. One just has to download the latest version of this app for free and then one can have all their contacts merged easily. Also there is a manual procedure by which the user can merge his or her contacts in an effective way. It is not required to delete any contact for doing this. Following some simple steps one can manage their contacts and can to Merge Duplicate Contacts in iPhone easily in the following way:
Opening the contacts and selecting any of the duplicate contact names
Tapping the name would select the contact, after which one has to click on edit from the options
Now, one has to scroll to the bottom and click on "Linked Cards"
Then, one has to tap on the "Link Contact" option
Now selecting the contract that one wants to link it with would make the duplicate contact merged.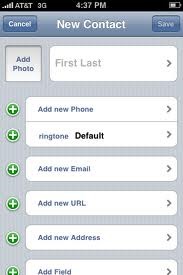 Synchronizing Contacts with other devices
Using these simple steps, one can easily Merge Duplicate Contacts in iPhone. Also, one can use their personal laptops or computer to have their contacts merged with much ease. One can download the iCloud software on their computers to have their contacts merged. The merging of the contacts by this app is done totally on its own. This means that the iCloud app does not merge two contacts by itself; it just merges two contacts of identical names. At first one has to synchronize their contacts with iCloud app and then click on all contacts, then click on cards and look for the duplicate contacts. After this they can merge them together.
Smart merge duplicate contacts
Another way to to Merge Duplicate Contacts in iPhone is by using the "smart merge duplicate contacts" app. This app costs 99 cents but is quite effective in merging the contacts so it's worth the money.
Hope You like our article to Merge Duplicate Contacts in iPhone, if you wish to know any other Apple iPhone feature, please share with us.