With its contemporaries like Android and Apple topping the charts with their attractive educational apps, the windows phone educational apps have also made their advent. Most of these applications are out of the box, unique and pretty innovative as well.  Check through the lines below, to know better.
5 Best Windows Phone Educational Apps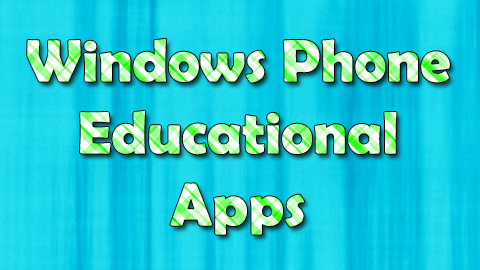 Training your brain is a lucrative and unique application, designed for the windows phone. This application comes for free and works equally well with the 7.5 and 8 version of your windows phone. Training your brain enables you to brainstorm ideas, and calculate numerous math puzzles by multiplying some numbers. This game redefines innovation and helps have an improved calculation, playfully. In fact, you will never get an opportunity of being bored, with the features this application presents you with. 1.0.1.0 is the latest and most updated version of Training your Brain.
Are you suffering from English speaking problems? Do you wish to understand the language better? Well, BBC English is one of the Windows phone educational apps which allow you to do the same. The BBC English is a free application which incorporates unique and enjoyable techniques of learning English. With this app, English learning will slowly become enjoyable to you.
Do you wish to improve your general knowledge? Well, the trivia buff allows you to do the same with its numerous questions. This application brings up various unknown facts which will help you understand some common things better. 1.3.0.0 is the latest version of this free application.
'Equations' is a perfect application for you, if you are afraid of mathematics equations. This application allows you to solve some vital equations easily. It also helps you find and locate the common formulas and constants quickly. From quadratic equations to cubic equation, with 'Equations' all your equations will be solved aptly. This application is a free one, with the latest 1.0.0.0 version. Thus, with its amazing benefits 'Equations' is indeed one of the most potential Windows phone educational apps.
Do you find history boring? Well, HistoryDaily will definitely change your idea about the subject. This application brings forth some intriguing facts in the form of stories. This helps you to read them and also develops you interest towards history. This free application is thus, highly effective and enjoyable.
Well, do you still find studies boring, after checking a glimpse of these apps? Well, with the numerous playful windows phone educational apps you can now study and have fun simultaneously. So, install these Windows Phone Educational Apps now, without having any second thoughts.