Apple has got a good reputation in the market with its latest iOS software creating a craze among the people. It withholds a good status for the ones who can afford to buy it. It comes along with the notepad. It contains app, which one finds pleasure to use and gives them a lot of experience. We are going to discuss below 5 Note Taking iPhone apps.
5 Note Taking iPhone apps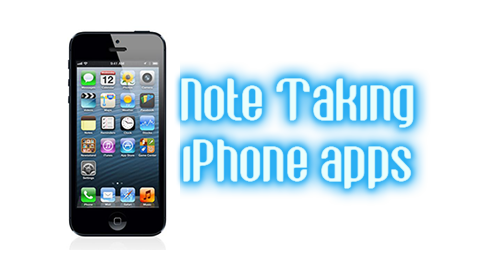 Evernote
It is known as the supreme app for note taking and is used by more than fifty million users. It has got a lot of things about you need where you can able to organize information and share it with others. The user of an iPhone can record audio notes and voice and can also sync those files.
You can get this app from: https://itunes.apple.com/in/app/evernote/id281796108?mt=8
Simplenote
It is an interface which is user friendly and is very simple to use. Here you can write down reminders and notes which will help make you remind of things which you might forget. In order to get more organized you can also tag your notes. You can also receive notification and share the written down notes with the others. Some additional features are it contains alarms and reminders.
You can get this app from: https://itunes.apple.com/in/app/simplenote/id289429962?mt=8
Super note:
The user of the note can take down notes with the help of the fingers, stylus pen or voice recording can be created. You can also add photos, drawings and be ready for the next lecture or meeting. The notes contain in it are color coded which is really helpful the users, they can trace it easily the notes with the help of colors instantly. Alert reminders can also be set so that one do not miss any important note. With the help of WiFi and email you can also transfer notes to people.  It is a very special Note Taking iPhone apps and stands out in comparison to other apps.
You can get this app from: https://itunes.apple.com/in/app/super-note-recorder-notes/id484001731?mt=8
Safe Note:
Out of five the 4th Note Taking iPhone apps is very helpful for the users. It falls under the word privacy because it contains password in it. If you want to keep your note under privacy then you should definitely go for this app, it will give a good protection to your app. The simple thing to use by just keeping your notes under a password. You can also filter through urgent, favorite and recent notes.
You can get this app from: https://itunes.apple.com/in/app/safe-notes-secure-protected/id434121430?mt=8
Sticky Note:
The final Note Taking iPhone apps out of the 5th. This note has got some special features in it like unlimited folder category, note styles. In this note also you can get well protection by setting password it contains and can protect all of your notes. You can also add those notes to your lock screen, select from ten thousand wallpapers, collaborate and share them with the others.
You can get this app from: https://itunes.apple.com/in/app/sticky-notes-reminders-notes/id346224003?mt=8
These are all the Note Taking iPhone apps, which contains a lot of features in it, to let grow one's interest for these apps. It is not so complicated, very easy to use and gives a lot of experience to one who has got interest on such routine. These apps are very useful and fulfills all your requirements, rather surprises you by giving more of it.