Nowadays most people use their Smartphones to access the internet. But as we all know, the internet brings threat to your device in the form of viruses, malware and spyware. So it is essential that you protect your precious device from such malicious attacks by using antivirus softwares. Here is a list of 5 Best Antivirus for Mobile Phones available in the market:
5 Best Antivirus for Mobile Phones
Norton Antivirus:
Norton has always been the number one antivirus for computers. Now Norton has brought out its Mobile Security to provide complete security for mobiles against spyware attacks and incoming virus-infected files. Another noteworthy addition to Norton Security is the Anti-theft feature. In case of theft, you can use this feature to send an SMS to your phone from any other phone and your phone will automatically be locked.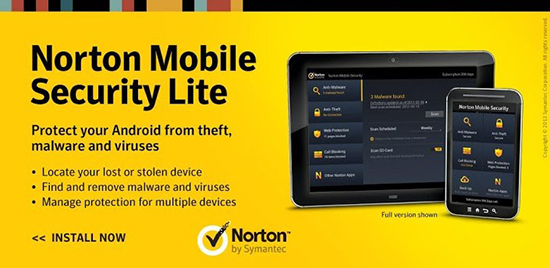 Mc Afee Anti-virus:
Although not as old as Norton, McAfee Antivirus has popularity in recent years, especially after winning the best anti-virus award in 2011. McAfee anti-virus does hourly scan of mobile phone for any kind of system vulnerabilities and immediately reports when it finds one. The best feature about McAfee anti-virus is that instead of deleting a virus infected file, it keeps under quarantine and allows the user to take the decision of deleting that particular file.
Avast Anti-virus
Avast Mobile Security is another effective mobile antivirus on the rise. It is popular because apart from the obvious virus and malware protection, it provides some unique features like erasing history via sms, GPS tracker, call monitoring, SIM lock etc.
These three anti-viruses are available for both iPhone and Android Smartphone. The fourth and fifth in this list are chart toppers in Android category and the iPhone category respectively.
ESET Mobile Security:
All the three anti-virus in the list above are paid softwares. ESET Mobile Security is available in the Google Play store for free. ESET has been in the antivirus industry for 25 years. Its mobile security provides antivirus, anti-spam, anti-theft and security audit features for mobile phones. Apart from all these, it protects files against unauthorized access by providing password security.
Lookout Mobile Security:
Lookout Mobile Security has been rated as the best antivirus for iPhone. It is a free app that performs virus and prevents infection. It will also inform you of unsafe Wi-Fi networks.
So these are the 5 Best Antivirus for Mobile Phones available for smart phones right now. Make sure that you choose one from the above list and install it to your mobile phones. These smart phones do not come cheap and it would be a shame to lose them because of your carelessness.
Please share with us about your list of 5 Best Antivirus for Mobile Phones in our comment section.