The success of Apple's iPhone has brought the success of the iPad 3 along with it. As a tablet, the iPad has seen mainstream popularity among the mobile user community. The iPad gives users the premium tablet user experience. But a user might want to increase the benefits of having a tablet. Jailbreaking an iPad is the best way to allow the user unrestricted access to the underlying operating system. We have already discussed How to Jailbreak iPhone 5 with Easy Steps, now we will discuss why you should jailbreak iPad 3, and How to Jailbreak iPad 3?
How to Jailbreak iPad 3 – Tutorial Guide
Why jailbreaking of an iPad is necessary?
Jailbreaking removes all the restrictions imposed on the operating system by Apple's developers. It broadens the horizon allowing a vast array of customizations of the OS user interface as well as functional improvements. Users can download and install cracked paid apps on the iPad for free. Users can make drastic changes to the common OS user interface like changing themes, icons, etc.
How to start the process to Jailbreak iPad 3?
Before starting the process of jailbreaking, it should always be kept in mind that something might go wrong during the process. So proper backups of the user content in the phone are like contacts, messages, mails, pictures, etc. should be made. The unlock code, which is normally enabled, should be disabled before starting the process.
Details of the process
The iPad should be connected to a computer with a USB cable and the Evasi0n jailbreaking tool should be downloaded. It is better to download the latest version of the tool so there is more chance of a successful jailbreak. After launching the application, the "Jailbreak" button should be pressed once for the process to start. The tool will start obtaining device information to generate the data required to jailbreak. Then, through multiple restarts, it will inject the jailbreak data and then upload the Cydia packages into the device.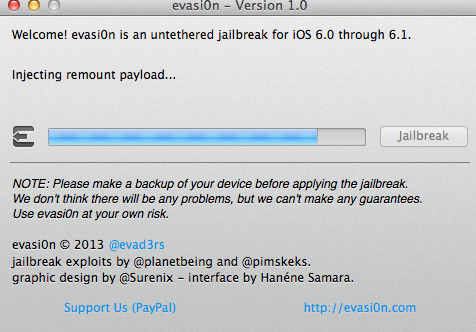 User input required at the end of the process
Finally, the user will be asked to unlock the device and then the new Jailbreak app icon should be pressed. The application will immediately close after being launched.
The process ends
During the process, Evasi0n will inject a remount payload, reload the root file system, generate a final jailbreak data, inject it, and then complete the process. The process of jailbreak iPad 3 is now complete.
Conclusion
Previously, jailbreaking was considered a very cumbersome task. With the advent of new age jailbreaking tools, the process has become a lot simpler and straightforward. Any user can easily jailbreak iPad 3 in a very short amount of time without any technical knowledge.
Hope this article will be helpful to Jailbreak iPad 3, If still you have any issue to Jailbreak iPad 3, Please share in comment section.