Battery life is the biggest concern for Smartphone users. That is one field where Smartphones can't be "smart" about. Before Smartphones came into the market, the battery lives of mobile phones were measured in days. With Smartphones, now they are counted in hours. Because of this, we need to follow certain steps to improve mobile phones battery life. Here are a few tips to accomplish that:
How to Improve Mobile Phones Battery Life
Turn off your phone:
It may sound unrealistic, but really this is the best way to save your battery life, in the long run as well. Just turn off your mobile when you don't expect (or rather don't want) any call. Bedtime is perfect for this because then you have a legitimate excuse for shutting down your phone.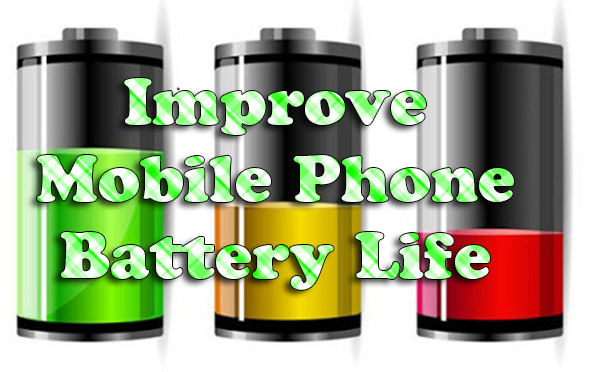 Full discharge before recharging the battery:
Always use up the entire battery before putting it back to charge. This is the best trick to improve mobile phones battery life. Do not put your back to charge with a few hours of charge on it until and unless it is really important.
Turn off Wi-Fi and Bluetooth:
Keeping Wi-Fi and Bluetooth on is often the main cause of battery drain. It holds true for GPS and infrared capabilities as well. Don't keep them on unless you need them. Also turn off the dual GSM/3G mode. The 3G connectivity drains a lot more battery than GSM mode. So it is stupidity to keep 3G on when you really don't need it.
Close unwanted running applications:
Battery usage is related to CPU usage. Close all unnecessary applications. Don't put unnecessary widgets on the home screen as they too use up a lot of battery life. Also be cautious while installing unknown or unsecure applications. Poorly developed applications may cause excessive battery consumptions.
Control the Screen Backlight and Display Brightness
The backlight of the mobile phone helps you to read easily when the surrounding ambience is bright. The backlight turns on as soon as you start using your mobile. But it doesn't go off the moment you stop using it. There is a particular duration for keeping the backlight on and it can be changed from the setting. Try to keep the duration to the lowest possible level. There is not point of unnecessarily keeping the backlight on. Also try to keep the brightness of the mobile phone's display as low as possible.
So all in all, these are the few basic tips to improve mobile phones battery life. Of course they won't double your mobile phone's battery life but if you follow them. But they will definitely squeeze out a few extra hours without hampering the performance of your phone.
If you like our article How to improve Mobile Phones battery Life, then please share this article on Facebook, twitter, Google Plus or any other social media network, so that your friends and colleagues will find it helpful.