With the outstanding success of Apple's iPhones, more and more people have started buying iPhones. With the exceptional user experience and Apple's brand quality, iPhones help people get the most out of an iPhone. This user experience can be taken to the next level by jailbreak iPhone 5.
What is the advantage of jailbreaking?
Jailbreak iPhone 5 allows users to install various kinds of exceptional applications, change system configurations according to one's preference. Many restrictions which come along with a factory-installed iPhone can be removed by jailbreaking.
How to Jailbreak iPhone 5 with Easy Steps
Requirements
To jailbreak iPhone 5, users will need to get hold of a jailbreaking tool. The jailbreaking tool should work with the current version of the Apple's iOS. Evasi0n is one very popular jailbreaking tool that works on iPhone 5s which are running iOS 6.1.2, 6.1, 6.02 and 6.01 versions.
Before starting with the process
Before one goes about jailbreaking an iPhone, it is always advised that the user backs up all personal information and media content kept in the phone including messages, contacts, pictures, etc. The unlock code should also be disabled if it is enabled.
Preliminary requirement
The iPhone 5 should be reset by pressing and holding the Home+Lock buttons simultaneously till the Apple icon makes an appearance on the screen.
Starting the process
The latest version of Evasi0n should be downloaded from the internet and launched after the download process is over. The phone should be connected to the personal computer. When the Evasi0n application is launched, a jailbreak button will appear. Press it to start the jailbreak process.

The waiting period
After the jailbreak button is pressed, the jailbreak process is started and the program performs a series of tasks to complete jailbreaking the iPhone. Information is retrieved from the phone, and then the jailbreak data is injected into the device. The Cydia packages are also uploaded to the phone.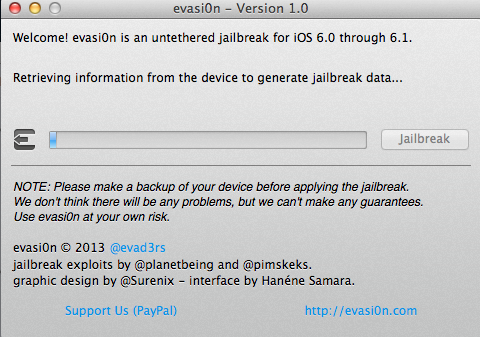 After the waiting period
When "Injecting remount payload" message is displayed by the application, the Jailbreak icon should be pressed in iPhone 5. The terminal should restart a few times, and after the last restart, the jailbreak process should be complete. The iOS is now jailbroken with Cydia packages available.
Conclusion
Previously, jailbreaking used to consume a lot of time and effort of the user. With jailbreaking tools becoming more efficient and easier to use, any user can simply jailbreak iPhone 5 with having to go through a very long and cumbersome process.
Hope this article will help to Jailbreak iPhone 5, in case of any issue to to Jailbreak iPhone 5, Please share in comment section.