The new version of Apple iOS that is version 7 has got brand new Apple iOS 7 Features. This version is equipped with lots of tools. This version of iOS is made in such a way that it makes the work faster and efficient. The UI has also been made smarter than before.
Apple iOS 7 Features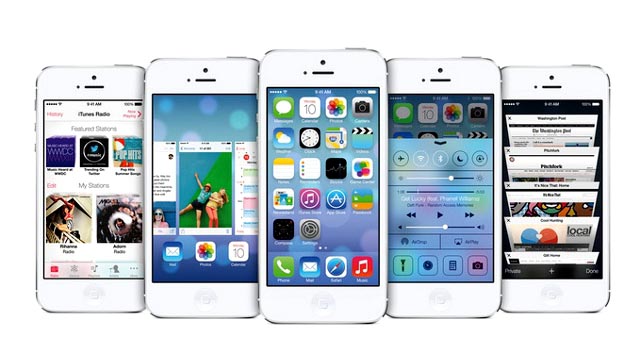 Notification and Control Center:
The Apple iOS has got a Control Center. This feature of yours provides quick accessing of the few tools which is needed all the time. Bluetooth, WI-FI, Brightness are few of those tools. Control Center lets the people access these tools at any point of time irrespective of the current app running. The Apple iOS 7 Features also include a Notification Center. This is a sort of sticky notes or reminder. It shows all the new mails, missed calls, to do list, etc. People can easily use this notification center as their reminder for any birthday or anniversary. It can also be used to remind him or her for any appointment or meeting.
Camera filters are available:
Multitasking is more efficient in Apple iOS 7 now. It has become smarter and easier. Timer can be set when to launch an app. So this is just fantastic. Camera has been enriched in this version of Apple iOS. There are brand new effects for still camera as well as video cameras. So it reduces the usage of other camera apps. Filters can be applied to photos to refine it and remove noises from photos. Photos can be viewed in a more stylish way than before. The new Apple iOS 7 brings system of grouping pictures. It has got Collections, Moments and Years Apple iOS 7 Features.
AirDrop:
The photos or videos are grouped together as per time or place. If the date is given, people can search all photos between that time period. If a person gives a place, he or she can sort out pictures of that place. The extraordinary feature of this version is the new AirDrop. This AirDrop helps to send multimedia files easily. Anything from any app can be shared via Wi-Fi or Bluetooth. All the shared files are secured with encryption.
The Apple iOS 7 Features are endless and all the features are too good. People found it superb and so they have left good reviews. They can work more smoothly than before. The Notification Center and the Control Center are the most liked tools which have made the work smarter and easier for the users.