Did you ever wish to create android app all by yourself? Are you unaware of the techniques of coding? Well, worry no more, as the guidelines mentioned below, will definitely help you to create your own Android app without the knowledge of coding. Glance through the tips and follow them in accordance, to learn the techniques of creating the app accordingly.
How to Create Android App without Coding Knowledge?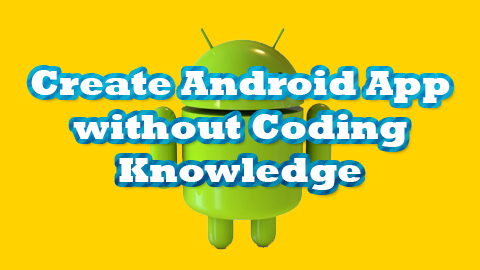 Put your thinking caps on
Before creating an app, put your thinking caps on and think over an innovative idea for your app. The idea should be unique and innovative, so that it can lure numerous individuals to purchase and use your application. Try to maintain complete individuality, and do not copy ideas while deciding over the app.  Try to create an app which has lesser competition and which is totally out of the box. After you've decided the idea, submit it to the potential app developing websites. The professionals of these websites create and develop these apps if they are innovative and luring. Again, you can also hire potential developers who can give a shape to the idea of your application. 
Take help of applications
In order to create android app without any knowledge of programming, you can also take the help of potential applications which help you to meet your purpose. Applications like Appsgeyser, Buzzstore and Appyet allow you to create your personal apps even if you do not have any knowledge about coding and programming. Simply search for these apps in the Android app store and use them to create android app easily.
Check online tutorials
You can also check online videos and tutorials to create android app without any knowledge of the software coding and programming. However, taking the help of a developer is the most advantageous and beneficial option in all regards. So, as soon as you've planned out an idea about your app, consult a competent developer to put the idea in shape. As soon as your app gets created, you will receive it accordingly, and you can thereby submit it to the Android developers. You can easily trace the android developers from the android web page. Soon, your app will be in the android stores if it gets accepted by the developers.
Thus, follow these mentioned tips to create android app easily, without involving much hassles. Also, after creating the app, ensure necessary methods market it well and make it highly popular to a huge mass. Increased popularity of your app will lure individuals to purchase it and use it.