Ever wanted to make your own app and sell it accordingly? Well, your dreams are sure to come true by following these mentioned guidelines. These guidelines will not only guide you throughout, but will also provide you with a step by step knowledge regarding creating and marketing mobile apps. So here is our guide to Advertise and Sell Mobile Apps
How to Advertise and Sell Mobile Apps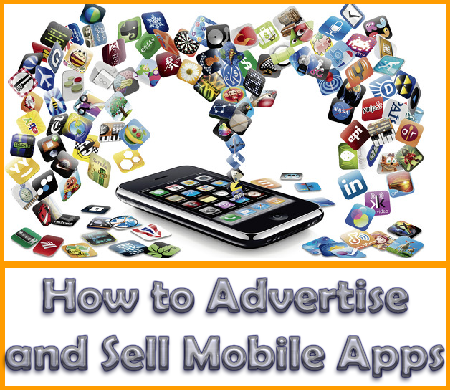 Decide appropriately
Yes! Before creating an app you have to first decide which platform you wish to choose. There are numerous platforms including Android, apple, windows, nokia and many more. Browse the websites of these platforms in order to check and analyze the market and popularity of these applications. Finally choose the platform which suits your needs the best.
Create an original concept
In order to create mobile applications you need to be creative and you also have to nurture your imaginative faculties to a considerable extent. Put your thinking caps on and conceptualize an app which will not only be enjoyable but also equally useful. A strong concept will competently help you to create and eventually market your app.
Learn better
In order to successfully develop mobile apps you need to have a proper idea about varied programming languages. Xcode, Adobe flash lite, Python, Qt, Java, Objective-C are some of the lucrative programming languages which can facilitate you to develop your app. If you are unaware of programming language search for local zones or centres where such programming languages are taught. You are ready to work out with your app as soon as you learn these languages well.
Register to your platform
As soon as you learn the programming language and develop a concept about your app, register your name in your chosen developer platform. For example if you have chosen Google as your platform https://developers.google.com/google-apps/ register yourself to the platform and follow the instructions appropriately. You will have to do the same for android, apple or windows.
Choose a coder
After choosing your platform you need to choose an appropriate coder who can competently code your app and create it accordingly. Type google.com on your address bar and then randomly search for the app developers there. You will find numerous options from which you can choose a suitable and appropriate one. Again, if you are experienced in your job you do not have to seek assistance from a coder. Recently, with some WYSIWYG apps you no longer need to code while creating and developing apps.
Market your app properly
After developing your app you need to submit it to the developer platform and if it is accepted you can begin by marketing it aptly. Give advertisements in social networking websites. Most of the websites have an option advertise on the left hand corner of the page. Click the link in order to advertise and market your app. You can also create a website for your app and provide its link to various social platforms to facilitate the process of marketing.
So above are our tips to Advertise and Sell Mobile Apps. Nowadays various new apps have made their advent in the market, hence, the competition is pretty tough. In order to succeed in this tough competition you need to nurture innovative ideas and incorporate it deftly in your application program. But for a successful apps seller, you need to Advertise and Sell Mobile Apps in a proper way. If you have any other tips to Advertise and Sell Mobile Apps, please share with our readers.