Whatsapp is perhaps the second most significant chatting platform (after Facebook) among the youngsters of this generation. However, chatting on whatsapp turns out to be a tedious job if you have a low battery in your Smartphone. It is practically irritating to constantly tap on the phone, in order to load your previous messages. And so, the following guidelines will aptly help you in keeping backup whatsapp conversation on computer from Android phones.
How to Backup Whatsapp Conversation on Computer from Your Android Smartphones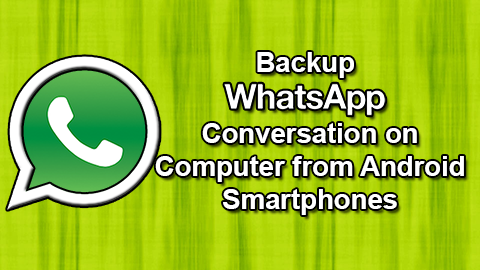 Your requirements
Among the significant requirements for keeping a backup of your whatsapp chats, an Android phone tops the chart. Apart from that, you also require a file manager equipped to support the roots. This is very often termed to be the Ghost commander tool. An active python and a whatsapp extract tool also add to your requirements. Check the software or apps that you possess, and, download the ones which you don't. The mentioned stuffs are absolutely essential for keeping a backup of your conversation on your computer.
How to move the backup conversations?
Begin, by opening the file manager, after which you need to locate the /datadata/com.whatsapp/database on your phone. For previous versions of Android, you need to find /data/data/com.whatsapp/databasae. After this, copy the wa.db and also the msgstore.db on the micro SD card you have chosen. Follow this by choosing a random folder on your computer and extract the Whatsapp Xtract Tool accordingly. After getting this extracted, run the '!install pyCrypto.bat"on your computer as the administrator. Now get your Micro SD card plugged into your computer and get the msgstore. DB and the wa.dp copied to this new directory and replace any old file if asked. Open the Whatsapp Xtract Android in order to check the HTML files from your previous copied database. Lo behold! You can now see the HTML files from any browser and easily view your previous conversations accordingly.
Conversations in your Computer
By following the mentioned guidelines, you will easily backup whatsapp conversations on Computer. You can re-read your old chats and reminiscence you previous conversations with the aid of this app. Again, if you wish to keep your conversations safe, you can even take the assistance of some cloud apps like Dropbox.
The mentioned technique is therefore a highly effective technique for storing your previous conversations on your computer. Moreover, keeping a backup of whatsapp conversations on computer can help you recollect various funny and memorable chats with your fellow buddies. Thus follow the mentioned steps to Backup Whatsapp Conversation on Computer and keep a back-up easily and quickly.