Windows phone has recently gained some popularity in the market but many face problems due to its slow interface. People should know that whenever they start installing apps on their phone it will gradually tend to get slow. In order to solve this problem and Speed Up Windows Phone, I am going to write this article.
How to Speed Up Windows Phone Smartphones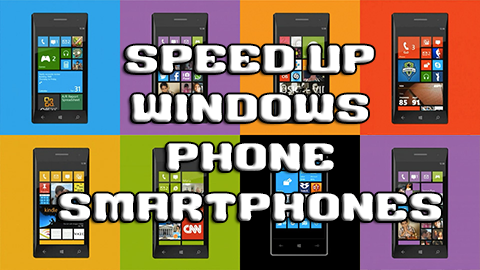 Practice the following method to increase the performance of your phone:
Update Software:
Keep your phone software always up to date to prevent any bug and lag issues. Updating the software also gives many new added features to the user which is very interesting and gives the user a feeling of using a new phone every time it is updated.
Resetting Phone:
You must have seen whenever you buy a phone it works very smoothly without any pause and gradually gets slowed down with time. Well this is quite a common problem for everyone, as you install apps and use your phone it increases the handset memory usage along with processes. Whenever you reset your phone you will get your phone ready without any kind of apps and hence it works fine again with reduced memory and process usage.
Memory Space:
Many people do not prefer resetting their phone as they have to create all kinds of backup. For them this step is advised to be followed. Here you make sure that your phone's memory remains as empty as possible. This can be done by moving all apps, songs and videos in the external  SD card rather than keeping it in the phone memory. This will help you a lot to Speed Up Windows Phone.
Windows Store Apps:
Search the windows store for useful app that might be a lot of help to you. These softwares kills task minimizing memory usage and unnecessary processes and thus improves the performance of the handset. An antivirus is also helpful for Speed Up Windows Phone as it kills the spam and viruses which slows down the system. Make sure if you are unable to move all apps and files in your SD card do it so via an app as it speeds up the phone very well.
Uninstall Apps:
Uninstall apps which unnecessarily consumes memory of your phone. By doing this the a lot of space gets free in your phone and the processes takes place faster than before giving a better performance to you. Installing a lot of apps is the main reason why people are unable to Speed Up Windows Phone.
Periodic Restart:
Though it is not of much help but still you are advised to restart your Window phone periodically as it helps to stop unnecessary processes and memory consumption thus increases the handset's performance.
Root your Handset:
If you are not concerned about getting your phone serviced from its brand owner then you can brick your phone. After you have rooted your phone the warranty gets void but the performance and speed of the device increases amazingly. So if you expect to achieve the best performance of your device then you are advised to do so.
Hope the above methods are more than enough to help you to Speed Up Windows Phone. There are still many methods that are yet to be unveiled and made to use. So stay in touch for more updates related to this article.