The iPhone by Apple is widely known across the world and holds a high prestigious rank in its user's eye. Apple is widely known because of its uniqueness and quality based products. Though it is not a big issue but yes the iPhone also gets slowed down with time. So the question arises "How to Speedup iPhone?" Here we will discuss about this.
Tips to Speedup iPhone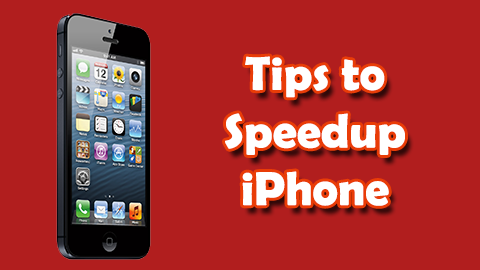 Keep Software Updated
Always remember that you need to update your iOS software as soon as it is available. By doing this one can get the benefits and prevent their device against any bug or lag issues. Along with the iOS the softwares of the device are also advised to be updated for getting the latest features of them respectively.
Keep Memory Space Free
It is often noted in most recent phones that consumption of a lot of memory decreases its efficiency to perform. Memory consumption causes slow performance and freezing of the phone which no one likes. You can uninstall unwanted and unnecessary apps not required by you and free some memory space which would help you to Speedup iPhone to perform better.
Take advantage of the Store's App
There are lots of applications available in the App Store of Apple which you can make use of to benefit. This app helps you to keep your system protected from unwanted malware and also keeps the settings in optimum condition so that you can get the best performance out of your phone. If you expect to Speedup iPhone then this is one of the best ways to do so.
Restore Your Phone
This is one way by which you can get back your phone to its new state as it was when you bought it. If you feel that your iPhone has become quite slow and is not up to your needs then you can reset it. This will delete all the apps and content from your device and make it as fast as it was when you bought it. This really helps you to get back your old buddy which used to give its best performance.
Restarting iPhone:
Though it's not much of help but you can surely restart your phone periodically. By doing this you can free unwanted memory consumption by some apps which you have opened earlier. This would increase the processes of your phone and make it faster.
These are the few many ways by which you can Speedup iPhone and make it perform better. There are still many other ways which can be done but these are the easiest and safest. Stay connected for more updates and news related to this issue.