Both iOS and Android are two leading operating systems of the world, each endowed with apt and beneficial features which enable it to overpower the other. However, in this intriguing rat race, Apple iOS steals the show with its proximity of luring features and effective advantages. So, simply read along, to know why Apple iOS is better than Android.
5 Top Reasons why Apple iOS is better than Android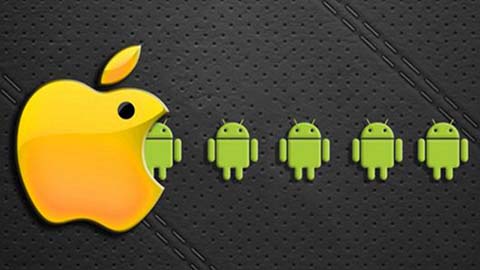 Appropriate security features
Yes! In terms of security, Apple is much more superior to Android. The security features and the security advantages offered by Apple iOS, is much better and easily accessible compared to Android. Apple is highly stringent about the security measures undertaken and so, it actually overpowers Android in this regard. Blocking the disrupting and inappropriate apps turn out to be one of the major security features of Apple. Again, "Find my iPhone apps" is another major feature of this operating system which enables you to locate your misplaced or stolen apple device, which in turn, enhances the feasibility of this OS.
Better responsiveness
Again, in terms of responsiveness too, Apple beats Android, completely. In fact, apple is much more fluid and appropriate compared to Android in regards of responsiveness. Phones or devices equipped with Apple as their operating system, respond much faster than Android devices. And so, Apple steals the show in this respect as well.
Innovation at its best
The innovative and unique features of the Apple phones effectively enhance its feasibility and effectiveness. The applications offered by Apple are much easier to install compared to Android. Moreover, the Android apps with lesser feasibility and purposefulness fail to match the prowess of the Apple iOS applications. Thus, Apple iOS is better than Android with respect to innovation and uniqueness of applications.
Multitasking facilities
The multi tasking facilities offered by Apple are highly superior to those of Android ones. You can easily toggle between applications and enjoy the benefits of multi-tasking with the aid of this operating system. The multi tasking button is available in the home screen option from where users can easily use multiple apps simultaneously.
Lesser Fragmentation issues
Android is an open source operating system and so, it is quite likely that it has issues regarding fragmentation. However, the situation is completely different for Apple where no issues associated with fragmentation is experienced by the users.
So, keeping all the features and the benefits of Apple iOS in mind, it can be concluded that the features and the functions offered by this operating system are far better than Android. Yes! Apple iOS is better than Android with regard to lesser fragmentation issues, multitasking prowess, innovative applications, authentic security measures and also amazing responsive features.