Both Apple and Android are the two leading operating systems in today's world, and each of them is endowed with myriad features which effectively enables it to stand out from the other. However, in this competitive race, Android turns out to be much better than Apple iOS due to some lucrative advantages. Yes! With the myriad features and advantages offered, Android is better than apple iOS. Simply read on, for a better knowledge of these advantages.
5 Top reasons why Android is better than Apple iOS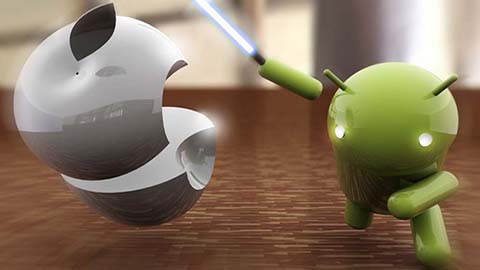 Diversity Of hardware
This is one of the major benefits of Android, which cannot be experienced with the iPhones. With the aid of Android as an operating system, you can easily make your pick from a wide array of hardware preferences as per convenience. You can shift to a physical QWERTY keyboard, experience 1080p recording of video, enjoy wireless streams on your TV and also 3D voice recording with the aid of this innovative operating system.  Be it big screen, small screen, QWERTY keyboard or touch pad; you are endowed with innumerable hardware choices with the aid of Android.
Luring GPS Navigation Apps
Yes! There are definitely a large number of GPS navigation apps on Apple iPhones; however, they do not match the effectiveness and the feasibility of the Android apps. The GPS navigation features and facilities in Android is definitely more varied and well defined, compared to the Apple ones. The GPS maps and voice recorded guidance offered by Android is pretty more accurate and apt than the iOS ones.
Appropriate widgets
The wide range of appropriate and effective widgets present in the android phones, aptly make it a better and better thought of choice compared to iOS. These widgets are lucrative, purposeful and are present on your home screen, thereby enabling you with any and every information, as and when you require. This aptly enhances the customization of this operating system, and makes it a better choice between the two.
Facilities of setting default apps
Again, Android is also endowed with facilities to set its default applications and due to this innovative feature Android is better than apple iOS in its true sense. You can easily decide and choose the particular apps that you like, here with this OS. Be it a specific browser, or a music player or anything else; you can easily select your favorite features and apps as the default ones. This is indeed very lucrative and effective feature in all regards.
Lucrative voice commands
In apple iOS, the voice command facilities are rather limited compared to the Android devices. Yes! In the Android phone or tablets, you can easily enjoy a wide array of voice function facilities. These functions are highly effective and purposeful, simultaneously.
Thus, keeping the following advantages of Android under consideration, it is definitely a better option to opt for Android rather than apple iOS. This is because Android is better than apple iOS in all regards, with its myriad features and numerous advantages. Thus, it is definitely a wise decision to opt for Android instead of apple.