There are millions of people now using the DSLR cameras across the world. These cameras are very sensitive. So these need to be taken care of very much as little carelessness can result to damage. The sensor of the camera is the main thing. So here is a study to Safely Clean DSLR Camera Sensor.
How to Safely Clean DSLR Camera Sensor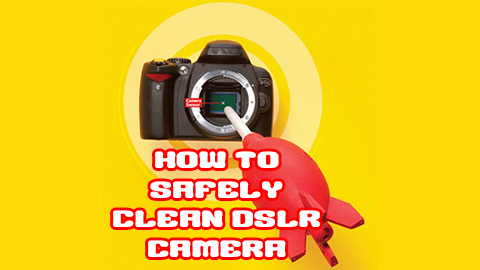 Detecting sensor dust:
There are many occasions when one can find sort of marks or spots on the images taken by a DSLR. At first, people may think that it is due to some light problem or may be the hand shook while taking the snap. But when these spots tend to come in every picture, the user must be aware of the fact that his or her camera's lens may get dirty. In all probability, the lens or the sensor of the DSLR may get polluted with dirt and small dust particles. In this case, the sensor needs to be cleaned. It is highly recommended that one should be aware of all the parts of a DSLR becoming cleaning the sensor otherwise the camera may get permanently damaged.
Cleaning procedure:
Firstly one needs to locate the dust. For that, the aperture of the lens should be made smallest. Then the focus should be made on a white surface like a sheet of a paper. The shutter speed should be made automatic. Then take some blank snaps so that the dust particles' positions may be spotted. The pictures must be transferred to the computer and watched it precisely by zooming. After spotting the dust particles, the camera's cleaning mode in manual way must be enabled. This will flip open mirror and then the lens needs to be opened.
Accessories involved:
If the dust can be seen with naked eyes, those must be removed using a squeeze bulb blower. Then a new sensor swab must be opened by adding two or three drops of eclipse solution to tip. Then the swab needs to be rotated 180 degrees and dragged to the reverse direction. Finally the used swab needs to be thrown away. This should remove the dust and thus will Safely Clean DSLR Camera Sensor.
A DSLR camera user must know the details of how to Safely Clean DSLR Camera Sensor as the sensor gets dirty very frequently. Every time it is not possible to take the camera to a professional camera engineer to clean it. So the above process must be followed to clean the sensor.