Are you in search of the best and the most well defined compression apps for iPhone? Are you confused in choosing over a wide array of applications? Well, the guidelines mentioned in the below text will effectively assist you in this regard. The benchmarks provided are appropriate and highly viable. Read on, to know more about the best iPhone compression apps.
5 Best iPhone Compression Apps (Zip/rar)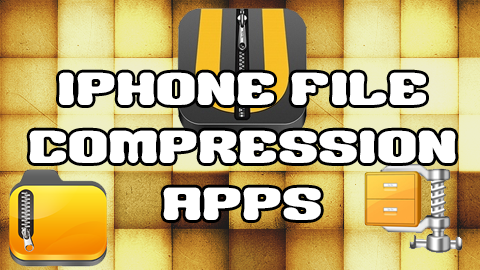 iZip
iZip is a highly versatile application which is not only popular but is also highly well defined. This application comes with a large number of features which effectively enable it to stand out from similar products of its kind. This application is highly well featured and enables you to manage your files in separate folders. Due to the high user ratings and myriad features, this application is indeed pretty commendable. This file management application compresses the files and the folders in zip and rar format. iZip is a free application and its latest 6.85 version is free from bug fixes. https://itunes.apple.com/us/app/izip-zip-unzip-unrar-tool/id413971331?mt=8
UnArchiver
With the aid of this application you can easily transport files in different folders and then compress them accordingly. This application is probably the most apt and well featured app from the range of apple and it also enables you to incorporate passwords in your compressed zip folders for the sake of security. This application comes free of cost. https://itunes.apple.com/app/id529090178?mt=8
Winzip
WinZip is probably the best and the most well featured compression apps, designed for iPhone. It comes with myriad features associated with compressing your chosen files in a zip format, which is indeed very commendable. This app works pretty fast and is endowed with the most popular and bug free versions available. The Winzip is a free application. http://www.winzip.com/win/en/index.htm
ZipApp Free- Unarchiver
This free application is perhaps the most advanced file management system offered by Apple. You can easily manage and compress your files in zip and rar format with the aid of this lucrative application. Moreover, you can also zip and unzip your chosen files appropriately. The Zipapp is a free application and it is one of the most apt iPhone compression apps. https://itunes.apple.com/us/app/zipapp-free-the-unarchiver/id585600850?mt=8
Zip Browser
The Zip Browser is also a highly relevant and purposeful application with regard to viewing content in zip format. Moreover, it also enables you to personalize the content, thereby adding to the benefits. Thus, with its numerous features and superb benefits, this free application is indeed pretty commendable. https://itunes.apple.com/us/app/zip-browser/id453149699?mt=8
Thus with the myriad features and the large number of advantages offered by each of these applications, it is indeed pretty viable to opt for them. All you need to do is, refine your search and choose the best and the most well featured iPhone compression apps, which enhance your file compression procedure.