Are you intrigued to use Facebook video chat on iPhone? Do you wish to avail the maximum features of Facebook video chat from your iPhone? Well, think no longer as the following guidelines will effectively help you in this matter. Simply give a quick read in order to delve into the intricacies of the subject and have a proper and apt idea about the same.
How to use Facebook video chat on iPhone?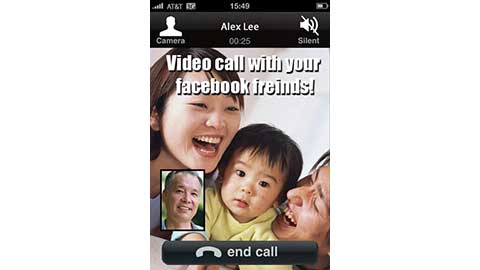 vSocial
This is a free and innovative application which endows you the opportunity to enjoy video chatting from your iPhone. This application comes with myriad features which effectively enables it to stand out from similar stuff of its kind. Moreover, the features of this application also effectively improvise your chatting experience accordingly. In fact, you can also enjoy free text messaging services with this application. The vSocial works equally well in 3G and Wi-Fi networks, thereby taking your video chatting experience to another level. The amazing picture quality of iPhone coupled with the minimum buffers of this application endows you with the best features of a Facebook video chatting service. Moreover, the best advantage of using this application is that, it comes for free. Moreover, the new 1.4.2 version comes with some innovative bug fixes which in turn help to enhance your connections. Thus, it is definitely a commendable decision to opt for this amazing application and enjoy its myriad features, accordingly. https://itunes.apple.com/us/app/vsocial-videochat-for-facebook/id418846339?mt=8
WeTalk
This is probably the most popular and innovative application designed for your Facebook video chat on iPhone. It comes with myriad features which in turn effectively cater to your varied requirements. From amazing picture quality, to uninterrupted video calls; this chatting application offers the best of features, which you always craved from a similar device of its kind. Moreover, WeTalk also enables you to enjoy free facebook chat as well. You can share stuff, enjoy calls, video calls, chats, with emoctions and many other features with the aid of this application. Thus, it is indeed a very feasible option to get it installed in your iPhone. WeTalk is currently endowed with the 1.1 version, which is free from any and every bugs and lags. Moreover, with its superb array of features and advantages, this application also comes for free. https://itunes.apple.com/us/app/wetalk-for-facebook-video/id521076512?mt=8
Thus, the mentioned list bears the names of two most popular applications for Facebook chat on iPhone. Glance along the features of these applications and finally choose the one, which suffices you requirements to the utmost.