Google Android is gradually increasing its popularity by launching some exciting apps for its devices. There are thousands of free as well as paid apps, which you can download easily from Google Play or the Android market. You always download and install these applications according to your requirements and your device's compatibility. The following text contains two of the most popular apps designed for Facebook Video Chat on Android. Simply glance through their features in order to choose your preferred app.
How to use Facebook Video chat on Android Smartphone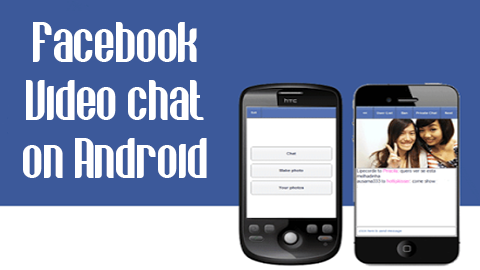 Seen: Video Calls for Facebook:
The Seen is an innovative application which is created for the purpose of Facebook video chats. This application endows you with a seamless performance which helps you to enjoy your calls without any basic interruption. Download the Seen application today from the android market to make video calling at its best using Wi-Fi or 3G.  In fact, you can easily experience the high quality video and audio clarity without interruptions with this amazing device. The most exciting features of Seen are; Video calling with impressive clarity and HD audio calling. You can also configure group call throughout the world and share your live expressions with your friends and families. This is a pretty simple and user friendly app which makes your calling easier with a simple login to Seen account by using your facebook username and password. This application is currently endowed with the 1.8 version which is free from all kinds of lags and bugs Seen is compatible with Android devices having the 2.1 or above3 versions. So, what are you thinking of? Visit Google Play and download Seen and enjoy! https://play.google.com/store/apps/details?id=com.wapmx.telephony.banter&hl=en
TK Video Chat for Facebook
TK video chat for Facebook is an amazing video chatting application which enables you to enjoy seamless and interruption free Facebook video chat on Android. It is equipped with auto translation option which translates the languages in the built-in group chat. Again, if you wish to enjoy seamless private and group calling this app is perfect for you. Some built-in functions of TK Video chat for facebook are, Webcam stream broadcasting, public and private video chat, auto translator for 50 languages, interaction with random people through video calls, photo sharing and much more. This application is compatible with the 2.2 or greater versions of Android and its currently endowed with the 1.4.2 version. Moreover, this application also comes for free.  https://play.google.com/store/apps/details?id=air.com.fbvideochat.fbvideochat&hl=en
Thus, all in all if you wish to enjoy seamless and interruption free facebook video chat on Android, the mentioned applications are sure to help you. Simply browse through the features and pick your chosen app, as per convenience.