Facebook for mobile has become more popular than the Facebook for PC because people like to have Facebook on the go and they can have it only on their mobile. Also almost everyone has a smart phone these days and they are downloading the Facebook for their devices. Here is the Security Tips for Facebook Mobile.
5 Security Tips for Facebook Mobile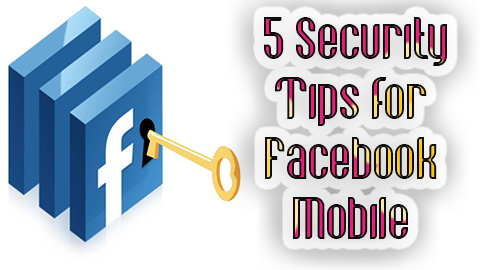 Security tips:
The first and foremost defense of the device is protecting the phone with a password. Almost 30% of the people do not secure their phone with password. This will prevent anyone from accessing the phone without any permission. The iPhone users already have a lock, but one should make it stronger with password.
One should always use different password for the email and the Facebook accounts. It becomes difficult for the hackers to crack the password when the password of email and the Facebook accounts are different. Having same password for both the email and Facebook account makes it easier for the hackers to crack the password and the account will get hacked very soon. Thus one can move one step ahead in the process of not having the account hacked if different passwords are used.
Facebook has provided with an option which is called the Secure browsing and it protects the user's account from use by anonymous and any sort of spam. It is a special protection from the Facebook team itself to protect the account as they give a HTTP secure connection for the user.
There is a great way to detect whether anyone else is using the user's profile or not. One must keep the login notifications one by providing a cell number in the account and this is one of the best Security Tips for Facebook Mobile. Once it is kept on, the user will get a message as soon as any unknown user opens the same account with some other device. The device has to be different and which is not saved in the account, for tracking the unknown user.
Facebook recommends everyone to have small group of friends which are trusted ones and not to use too many apps as there may be chances of spam spreading.
Facebook is known to be one of the safest social networking sites. But at present, many people are facing problem of spam and hacking. These can be reduced by browsing secure sites and apps and having small trusted group of friends. These are the best Security Tips for Facebook Mobile.