Whatsapp is one of the most popular messengers at present among the smart phone apps. It is very user friendly and a fast messenger. The registration of the app is very easy and it let the users perform many functions. Here are the steps to show how to share PDF, apk and zip files on WhatsApp.
How to share PDF, apk and zip files on WhatsApp messenger [Android]?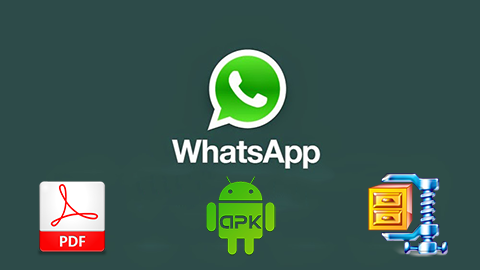 Requirements:
First of all, to share PDF, apk and zip files on WhatsApp, one must have android Froyo 2.2 or a higher version of android device. He or she also needs a Dropbox app from the play store and also CloudSend app. Here are the links given respectively for Dropbox app and CloudSend app. Firstly, the user needs to open the CloudSend from the device. The user needs to swipe left and click on the Setup. The CloudSend app will ask the user to link the app with the account of Dropbox. It has to be done by the user. After doing all these, one completes the stages of preparing the phone to share the files to others via Whatsapp or any other messenger.
Procedure:
After that, Whatsapp needs to be opened. Then the specific files need to be located from the phone memory or the memory card. Long tapping on the file or files will bring an option where the user needs to choose the share option. It has to be shared with the CloudSend. It will upload the file to the Dropbox and will take some time. After the upload completes, the user will get the link on the notification bar. On pressing the link given on the notification bar, it will ask to share the link. The user must choose the option to share file link via. Now the user has to share the file link using the Whatsapp messenger.
Whatsapp has gained huge popularity among the smart phone users but it could not allow the users to transmit any file other than audio, video, image, map, contacts or voice records. So here is the CloudSend app to serve the purpose and help to share PDF, apk and zip files on WhatsApp.