There are emerging numbers of Windows phone users at present around the globe. Windows phones achieved huge success as soon as they got released in the market. Now after buying a phone, one must know to Setup New Windows Phone to get started with. Here are the steps given to do so.
 How to Setup New Windows Phone (Step By Step Guide)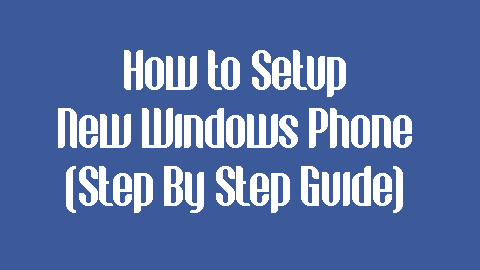 Steps to be followed:
Getting started with Windows phone is very easy and it had been made very user friendly for the users. Yet these sorts of tutorials are needed since there are a certain percentage of people around the world who needs to guide to get started with any latest gadgets. So this tutorial has been done very easily and briefly to let a user Setup New Windows Phone. To get started with a Windows phone, one needs just a Windows phone smart phone with ample charge on it. After unboxing the phone, the phone needs to be switched on till the welcome message is being displayed on the screen.
There will be an option called "get started" which will take the user to a wizard to make the phone familiar. The Windows phone agreement needs to be read thoroughly and agreed with.
Then a user must choose to set the phone which is recommended unless he or wants to customize the phone. People who did no use Windows phone before should always go through the recommended option provided by the phone. If the user is accustomed to Windows phone, he or she can go with the custom option to customize the setting of the phone manually. After these options, the home or country of the phone user needs to be entered, followed by the time zone of that particular place.
After that, the current time and date needs to be entered. There will be a check box asking to send the info to Microsoft as soon as the phone is activated.
After all these, the user must create a Microsoft account to access the Xbox live store. The Microsoft account also helps to sync all the elements of the phone with the computer or Xbox.
After that, downloading few apps will make the phone ready for user.
Creating Microsoft account is very important to get start with a Windows phone. It is needed every time the phone is accessed with the Xbox Live store. To Setup New Windows Phone, all the steps mentioned above must followed properly. Windows phone has made the interface very friendly so that people do not find it difficult.