There are leading numbers of Android users around the world at present. Large numbers of Android smart phones are sold every day. People who never used android smart phone before should follow this article to know how to Setup New Android Phone. After unpacking the set, following procedures must be followed.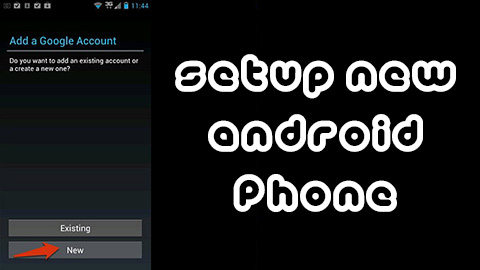 How to Setup New Android Phone (Step By Step Guide)
The user needs to have his or her phone well charged before getting started to setup the phone. A low battery phone might stop the procedure in the middle and things can get worse.
The setting up of android phone includes linking the phone to many social networking sites and creating the Google Account to access the Google Play Store. If the user already has one account, then he or she can use that ID as well for this purpose. The Android phone will take some time to connect the phone to the Google Play Store for the first time once the Google Play Store ID and password is being entered.
To Setup New Android Phone, one of the most important parts of the phone needs to be looked after well. It is none other than the security of the phone. For that, the user needs to visit the Settings and then the Security option. Over there, the user can set a PIN, password or a patter. Usually a pattern is given, but a password is safer than a pattern. A large and multi character password with toggle case in it is the best possible password ever. Depending upon the version of android, there are options like the Encrypt option.
Then Wi-Fi connectivity needs to be connected to the phone if there is any. The date and time of the phone needs to be entered by visiting the Settings of the phone.
The location also needs to be updated by turning on the GPS of the phone and opening the Map.
After all these, the Google Play Store needs to be visited to download few essential apps, which are not there in the phone by default. Android provides the facility to add widgets to the home screen which makes things easier.
Android has got an easy UI and users find no difficulty in setting up a new Android smart phone. But android do not provide any wizard as such for setting up the phone. So the user needs to visit the Settings to Setup New Android Phone manually and as per the user's choice.