When the Intel Developer Forum 2013 was being held at Beijing, many new mobile and computing devices powered by Intel processor technology were being announced. Chinese smartphone manufacturer, ZTE, also announced a new smartphone called ZTE Geek. The ZTE geek is a 5-inch phablet that features an Intel Clover Trail+ Atom SoC or chipset. A brief description of the various ZTE Geek features and ZTE Geek Specifications is provided.
ZTE Geek Specifications and Features
Display
The ZTE Geek boasts a 5-inch display having a resolution of 1280 x 720. The pixel density of the display is approximately 294 ppi, which is not very impressive given the fact that there are devices with 400+ ppi these days. The display will have Corning Gorilla Glass protection which will prevent scratches and dust from damaging the screen. Among the ZTE Geek specifications, the display is certainly not the latest which a smartphone can offer, but it is not average either.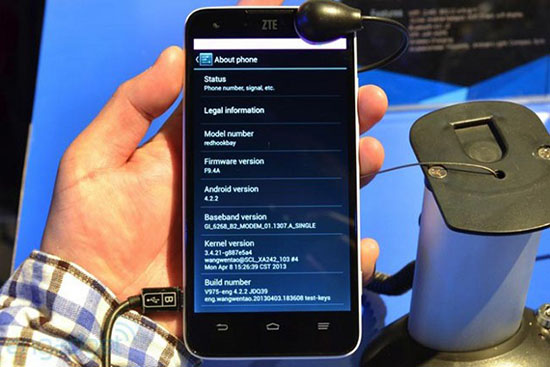 Hardware
Since the ZTE Geek was announced at the IDF, it wouldn't be a surprise if one said that the Geek features an Intel processor. The ZTE Geek features the Clover Trail+ Atom chipset from Intel. The chipset packs inside a dual-core 2 GHz Intel Z2580 CPU, a PowerVR SGX 544 MP2 GPU. The device has a 1 GB RAM which is enough to make everyday tasks fluid and smooth. 8 GB of internal memory is also provided in the phone.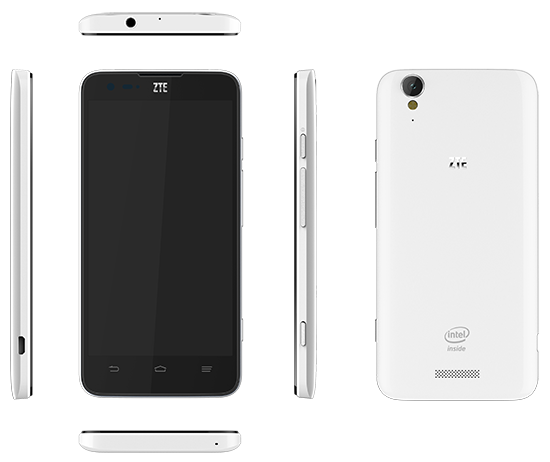 ZTE Geek Camera
Not much of the ZTE Geek specifications are known since it has been announced just a few days ago. The ZTE Geek's rear camera is an 8-megapixel one. The front-facing camera is an average 1-megapixel. Other details and features of the camera will be known once the smartphone is released.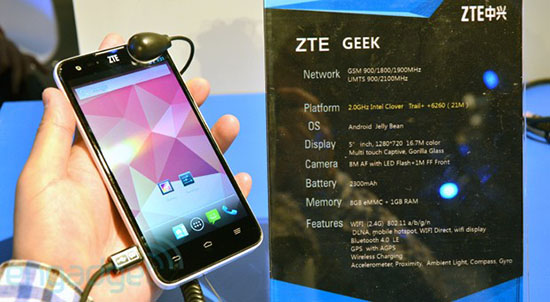 Design and other features
The ZTE Geek sports a glossy white design. With wireless charging capability being incorporated in many smartphones these days, the ZTE Geek is also not left behind. Mobile features of the Geek include a tri-band GSM and a quad-band 3G having support for HSPA. Apart from these, other connectivity options featured in the Geek are Bluetooth 4.0, Wi-Fi and GPS. The Geek will be running the latest Android Jelly Bean 4.2.2 operating system.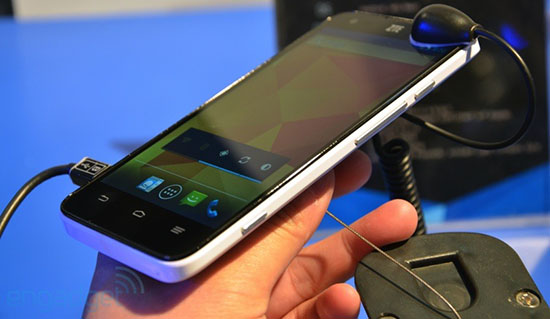 ZTE Geek price
The official ZTE Geek price is not yet known as it has been announced just a few days back.
Conclusion
With so many smartphones being released these days, ZTE has to make the pricing of the device right so that it can make a lasting impression. With the correct ZTE Geek price, the phablet has all the features to make it to the higher-end category.
Keep visiting this space for more updates on ZTE Geek Features, ZTE Geek Specifications and ZTE Geek Price.
Image Source : Engadget