You might have noticed that your PC sometimes do not work properly and you are in a situation to boot it under safe mode, where only minimum windows components and drivers are loaded. Here we are going to discuss below Boot Into Windows 8 Safe Mode.
How to Boot Into Windows 8 Safe Mode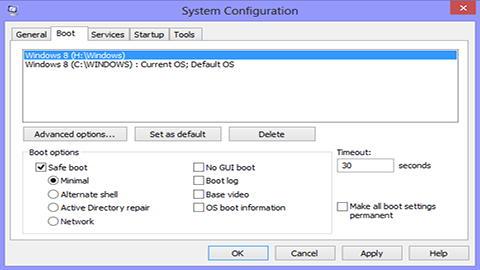 Safe mode:
The first thing that comes into user's mind the need of booting is to solve various problems arising in your PC. Troubleshooting has got many steps to solve such problem like system restore is used for system recovery, keeping in mind the problem you are facing etc. Among various troubleshooting steps Boot Into Windows 8 Safe Mode is the popular one used most frequently by many people. It is used when you are facing problem with normal starting up your PC. Booting is denoted as the norm for the computer users. In windows 8 it is not that the startup mode is removed instead it is deeply buried, which requires few steps to get activated.
To get into safe mode, two approaches are there in windows 8.  First there might be a machine which can boot under normal condition but safe mode is the easier one. Secondly the computer which you are having cannot reboot itself under normal mode. In this situation you have got no choice than to depend on windows 8's recovery console.
Booting under normal running windows:
Here you need to make some changes through MSConfig utility, and the PC will get up with the next boot and run in safe mode.
Step 1: In order to get the run dialog box press Win+R. Write "msconfig" and launch it.
Step2: Click on the boot option, select the safe boot and then apply it.
Ultimately the thing is done next when you go for rebooting your machine it will start automatically under safe mode.
You must keep one thing in mind the above discussion, the change in setting which you will do will lead to boot in safe mode only. In order to go back to normal situation, you will have to launch msconfig and deselect the option safe boot. After doing it, restart your computer which will bring it to normal situation.
Booting when PC is not starting:
A bit difficulty one, because here you will have to launch the recovery mode in windows 8, when the sequence of startup is going on under trial and error where you need to be patience. Here you need to display the BIOS, hold the shift key simultaneously press the f8 key in order to get the recovery mode. This can take few tries for getting it.
Step-1: Click on the refresh or reset or advanced tool option on the recovery screen display. Next click on the troubleshoot option.
Step 2: Click on the advanced option, here you will find windows startup setting, select it.
The final step you need to restart your PC, there you will find the advanced boot option on your screen, and there you can select the option Boot Into Windows 8 Safe Mode.
By following the above mentioned methods you will be able to Boot Into Windows 8 Safe Mode. There are many other methods which you must not fall for as it might damage your hardware. For more updates related to the topic please stay connected.