Blocking unwanted calls, messages and facetime calls is one of the useful features in iOS7. With this new feature you can block unwanted calls on iPhone in iOS7 from a stalker, telemarketers or a crazy ex. It is very easy to block them sending their calls straight to the voicemail without your notice. You can now have some peace of mind knowing that no one could harass you seeking your attention until you decide to get his or hers attention.
How to Block Unwanted Calls on iPhone in iOS 7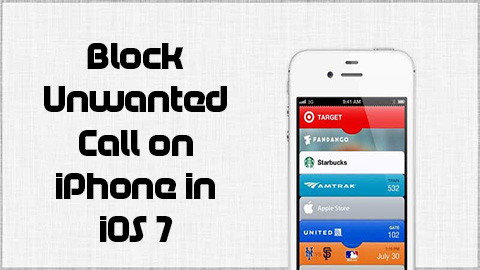 How to block someone who is in your contact list?
You can easily block calls, messages and even facetime calls from someone who is already in your contacts list. Follow the mentioned steps:
Open settings.
Scroll down and then navigate as: "Phone > Blocked > Add new.." .
Look for the contact that you would like to block and tap on it.
You're done!
Now that person won't be disturbing you anymore. Their calls will be sent straight to voicemail without your phone even making a beep sound. If they choose to FaceTime you, it will ring for an indefinite period on their side.
In future, if you ever change your mind, you can remove that person from the blocked list to receive their calls.
How to block a call from an unknown number?
To block calls from an unknown number, follow these steps:
Create a new contact named "blocked" or "don't answer" or any other name of your choice without any other details.
The next time you get a call from a person with whom you wouldn't like to speak with in future, add their numbers to this contact. To find the number, go to the Recents tab and then tap the button on the right. On the appeared screen, tap "Add to Existing Contact". Choose the contact which you named in step 1 and save.
It's done!
Now you can be sure never to hear from them ever again.
Conclusion
Following the above mentioned procedure, you can block unwanted calls on iPhone in iOS7. There are apps available in the app store to serve this purpose but why mass up your OS when you already have it as a built-in feature on your phone.
You can be sure you'll never be hearing from those annoying folks. It is a very good method to avoid telemarketers, stalkers, harassing bill collectors or a crazy relative.