Want to email a file from your home to your office? Or grab a forgotten file? With the help of some applications installed on your windows phone and your computer, you can remotely access computer from windows phone. These apps would provide you with full remote access to your computer as if you were sitting in front of your PC. You can transfer files from your computer to your phone and vice versa, reboot your PC or play games. Simply read along to know how you can access, view and control your computer while you are away on a holiday.
How to Remotely access Computer from Windows Phone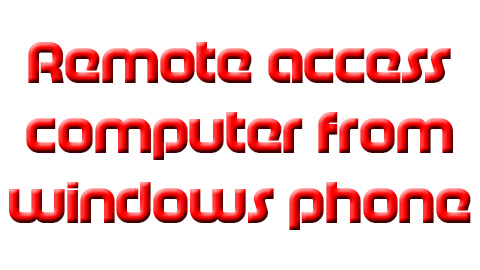 How to allow someone to connect to your PC using remote connections?
In order to remote access computer from windows phone, you would first need to allow remote connections. Do not ignore this step as it is the most vital step for remote access. Follow this link for step by step instructions:
http://windows.microsoft.com/en-us/windows-vista/allow-someone-to-connect-to-your-computer-remotely
What are the windows apps to serve this purpose?
Compared to the number of android apps available for remote accessing, very few apps for windows phone are available. However, following are some apps which are available for this purpose:
Remote Desktop
This app will let you access your computer using your phone from anywhere across the planet.
This app connects to both RDP and VNC servers.
Provides you full control of your computer's keyboard including special keys and mouse using your touch screen .
Uses less bandwidth.
Multiple monitor support.
Fixing of bugs is available.
Works with windows phone 8 and 7.5
The app costs $1.99
Splashtop 2
This app allows the users to remotely access Windows, Linux or OS X- based computers. You can open and edit files, play games, listen to playlist saved in the computer, watch videos and control other functions too.
Switch between multiple monitors.
Automatically matches the resolution of the phone.
System requirements include Windows(XP, vista, 7 or 8) or Mac.
You can get the app and other details from this link:
http://www.windowsphone.com/en-us/store/app/splashtop-personal/7422bd18-219e-4d20-af5e-126045a238b8
ConnectMe
This application allows you to remotely connect to your computers over the internet or LAN. Unlike other apps, ConnectMe doesn't need any software installation on the host computers. Other features include:
Controlling multiple remote computers at the same time
Sharing of files between the phone and remote computers.
Opening of files using installed apps.
Full keyboard control and support 20 keyboard languages.
For detailed info and to download this app, follow this link:
http://www.windowsphone.com/en-us/store/app/connectme/def0ec7e-d82b-4ddc-b4fd-a20fb4829e1d
Conclusion
With the help of the apps available in the windows store, you can remotely access computer from windows phone. Just follow the step by step instructions as in the link, and you can control your PC from any part of the planet.