The Nokia Lumia 720 is a mid-range Smartphone from Nokia that belongs to the Lumia line of handsets. The Lumia 720 was announced along with the Lumia 520 at the Mobile World Congress in Barcelona. Nokia Lumia 720 Features a design which is similar to Nokia's line of Windows Phone 8 Smartphone, the Lumia 720 is set to be the competitor of the HTC's 8S. Does the phone have what it takes to be an affordable yet feature-rich Smartphone? We take a closer look at Nokia Lumia 720 Features and Specifications & Nokia Lumia 720 Price and let you decide.
Nokia Lumia 720 Features and Specifications
Design and build quality
Nokia Lumia 720 Features quite a sleek and slim design which is somewhat better than Nokia's flagship device, the Lumia 920. It has the dimensions of 127.9 x 67.5 x 9 millimetres. The phone is quite light, weighing only 128 grams. However, the phone does have a tendency to slide out of one's hand, owing to the roundness in the edges. The phone is available in many colours including black, red, blue, yellow and white.
Screen
The Lumia 720 features a 4.3-inch IPS screen. The IPS technology allows the screen to have a good viewing angle and the colours appear relatively bright and rich. The screen has an aspect ratio of 15:9 so the movie buff out there will definitely be happy. The pixel density of the screen is a moderate 217ppi. For a mid-range Smartphone, the screen is definitely above average. Corning Gorilla Glass 2 protection is available on the phone too.
Nokia Lumia 720 Camera
The main camera in the Lumia 720 is a 6.1 megapixel camera featuring Carl Zeiss optics and a fairly large aperture of f/1.9. The large aperture allows exceptional low-light performance. The images do not suffer from hand-held shake thanks to optical image stabilization. Images look fairly sharp and crispy and colours are well reproduced by the camera. The front-facing camera is wide angled at f/2.4, and is 1.3 MP large. Both the cameras support 720p HD video recording.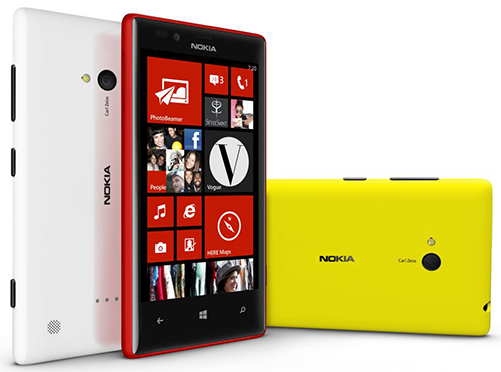 Hardware
Under-the-hood, the Lumia 720 features a Qualcomm Snapdragon SoC. It has a dual-core ARM processor running at 1 GHz and an Adreno 305 graphics processor. The phone has 512 MB RAM. Everyday tasks are smooth enough thanks to the hardware. However, the low RAM might cause slow responsiveness when multiple applications are running simultaneously. There is lack of FM Radio, which can be an issue for some music lovers, if they don't want to spend too much on Internet Radio data charges. Nokia Lumia 720 Specifications also includes Wi-Fi 802.11 a/b/g/n, dual-band, Bluetooth v3.0 with A2DP and EDR, file transfers, NFC support, 3.5mm audio jack with Dolby headphone sound enhancement.

Battery
Nokia has offered a 2000mAh battery in the Lumia 720, which is decent enough for daily use. The phone should last throughout a day.
Nokia Lumia 720 Price
Nokia Lumia 720 price in India will be Rs 18799 at Flipkart.com, Nokia Lumia 720 price in UK at O2 is free with £22 per month contract with 100 minutes, 250MB mobile data and unlimited SMS.
Conclusion
With the huge success of the Windows Phone 8 Smartphone from Nokia, a well-priced Nokia Lumia 720 should be a hit among the budget Smartphone users.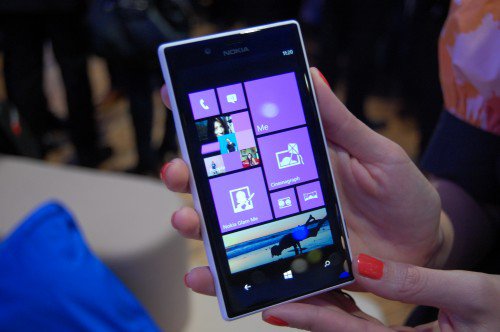 Nokia Lumia 720 Specifications and Features
[check_list]
Quad-band GSM/GPRS/EDGE
Quad-band 3G with 21 Mbps HSDPA and 5.7 Mbps HSUPA support
4.3 inch ClearBlack IPS LCD display with WVGA resolution (480 x 800 pixels)
6.1 megapixel autofocus camera with super-fast F/1.9 lens and LED flash
720p@30fps video recording
1.3MP front-facing camera
Windows Phone 8 OS
1 GHz dual-core Krait Processor
Qualcomm MSM8227 chipset with Adreno 305 GPU
Wi-Fi 802.11 a/b/g/n, dual-band
GPS receiver with A-GPS and GLONASS support
512MB of RAM
8GB of intenal memory, expandable via the microSD card slot
Accelerometer, proximity, gyroscope sensor
Standard 3.5 mm audio jack
microUSB port
Bluetooth v3.0 with A2DP and EDR, file transfers
Active noise cancellation with a dedicated mic
SNS integration
Xbox Live integration and Xbox management
Free lifetime voice-guided navigation
Dolby headphone sound enhancement
3.5mm audio jack
NFC support
Digital compass
Nokia Music
2000mAh battery
[/check_list]
Nokia Lumia 720 Video
Although we have tried our best to offer above information about Nokia Lumia 720 Features, Nokia Lumia 720 Specifications and Nokia Lumia 720 Price, but if you have any other updates on Nokia Lumia 720 Features, Specifications and Price.
Please add your opinion in comment section. Also share your comments, what are your thoughts on Nokia Lumia 720 Features compare to Galxy S4 and Nokia Lumia 720 smartphones? Please tell us that Nokia Lumia 720 Price is justified according to its Specs?
Disclaimer: All information on Nokia Lumia 720 Features and Specifications, Price pages has been compiled from their respective official websites or through public domain sites and leading newspapers. Although, We have taken reasonable efforts to give you accurate information, but Techsute.com assumes no responsibility for the accuracy (or inaccuracy) of the Information of Nokia Lumia 720 Features and Specifications, Price and other information mentioned of this page, and would recommend you to verify it from the official product provider. If you are a mobile manufacturer or would like to update or change information, or would like to advertise on our site please contact us