The Nokia Asha 501 is the new model of the handset which just got released in this summer in the market which has already achieved great feedbacks from customers globally. The Nokia Asha 501 Specifications comes in with a dual band sim slot having the swipe user interface in and the Nokia Asha 501 Features will be discussed below.
Nokia Asha 501 Features and Specifications
The Nokia Asha 501 come in with a display of 3inche screen size offering a resolution of 320 x 240 pixels. The Nokia Asha 501 Features in a bar designed and the touch responses are evaluative and smooth. It is 12.1 mm thick and weighs around 98 grams. The1200 mAh battery serves the users with a talk time utility of 17hours and 48 hours of standby time for single sim users.
Connectivity
The handset comes with an external port to connect to other devices with USB and has a latest Bluetooth with OPP, HFP, HSP, and PBAP. The handset also comes in with Wi-Fi connectivity and GPRS and EDGE and serves with no infrared, which is not considered to be that important for the users.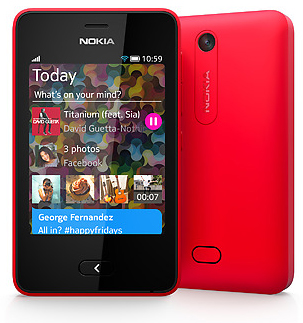 Camera and Zoom
This handset comes into the market with a primary camera of 3.2 mega pixels and has no other such secondary camera which is again another drawback for this phone. The zooming quality is up to 3 times the digital zoom with a fixed focus on objects. This is really an interesting Nokia Asha 501 Specifications.
Memory
The memory in this phone is just 64MB which is a disadvantage and gives a micro memory chip along with it with a storage capacity of 4GB of space. The memory can further be expanded according to the need and preferences of the user and is expandable up to 32GB. This quiet good as far as the Nokia Asha 501 Price is concerned.
OS and RAM
This handset runs on the newly launched Asha software platform with a 1GHz processor providing a smoother performance which is enough for a starter phone like this one and also has a built in 64MB RAM in it.

Media
The handset also comes in with a music player, a FM radio with mp3 and polyphonic ringtones and supports all kinds of Java and EA games.
The Nokia Asha 501 can be the next to smart phones if the OS used in it would have been android. Nevertheless, Nokia has come up with its first Asha software whose performance is yet to be tested. The Nokia Asha 501 Price is available for $106 (approx).
Hope you like Nokia Asha 501 Features and Specifications, it is definitely good mobile for low budget segment.